In my home town of Durham, North Carolina, I was led to a Holocaust memorial unlike any I've ever seen before.  It's the only place in the U.S. to memorialize ashes from Dachau which are proven human remains.  The ashes came into the right hands:  Sharon Halperin's, the daughter of two Holocaust survivors who became the "guiding angel" of this memorial project.  The ashes were donated by the family of Mr. Joseph Corsbie, a GI in Germany in May 1945.
Sent on an errand to Dachau, he encountered a liberated Jewish prisoner who handed him the ashes from a crematorium, enjoining him never to forget what he had seen.  Although Mr. Corsbie did not speak of the incident for decades, he began to discuss it with his family as he neared death.  They felt that the ashes should be returned to the Jewish community to be treated with the respect the victims were denied in life.
Once the ashes were analyzed and proved to be those of human beings, Sharon and her family commissioned a sculpture and signage to mark the site. Yesterday, the generous Jane Gabin of the Beth El Synagogue took me to see the resulting memorial, where we met Sharon.  Rather than use the expected barbed wire or smokestacks or other conventional imagery of the Holocaust, sculptor Mike Roig chose to depict a moving flame of polished steel.  It stands on a low bridge which says in Hebrew and English:  "Remember.  Do not stand idly by."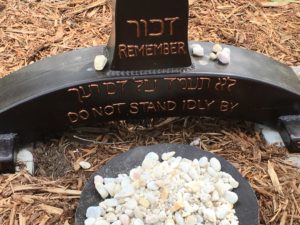 Approaching the memorial, one feels a sense of uplift, as of flames rising to the sky, still surging from the ashes below – but also a sense of something growing, emerging, and transcending.  The sculpture is taller than a person, but not so monumental that we can't feel part of it.  The geometric shape twirls in even a slight breeze, and suddenly I began to recognize my reflection in it – first blurry and indistinct, then sharper as I moved closer.  I was literally in the picture:  both in the flames, and in the resurgence of life.  Stones at the base waited to be placed in memory.  Much like the Tomb of the Unknowns, this place is an honored grave for so many who never had one except in our memories.
Dedicating the Memorial
At the dedication in 2015, sculptor Mike Roig's eloquent words speak of his intentions:
"The "eternal flame" in this sculpture will surely never extinguish. It moves according to the currents of air like those interred here were moved and shaped by the flow of history, and like we are by the ever-evolving now.
"In its surface you will see a reflection of us all as we stand before it. It is necessarily indistinct and impressionistic, and our reflected forms waver and distort as it moves, and that reflects a truth that in trying to see ourselves in that history most of us cannot know with clarity how that history would have drawn us in, or how we would have responded. There are those [survivors] here who can because they were there, but the rest of us we can only to strive to conceive of a vision of ourselves where we would have responded with courage and dignity, empathy and compassion, resistance and defiance."
May it be so.  Deep thanks to Sharon and her family for creating this sacred space, to Jane for taking me there, and to the Beth El Synagogue for welcoming me.