The birthday of Anne Frank was June 12, 1929, which means she was just eleven years old when the Nazis invaded Amsterdam, the "safe" place to which she and her family had fled.  Understandably, her parents made the decisions about when and how the family went into hiding.  In contrast, when I began imagining the heroine of An Address in Amsterdam, I wanted her to be old enough to create her own life, even under the Nazis.  At 18, she could make an independent choice to join the underground.  During the 13 years it took me to research and write the book, I avoided re-reading Anne's Diary because I didn't want to be unduly influenced by it.  But I remembered our first meeting vividly, even so.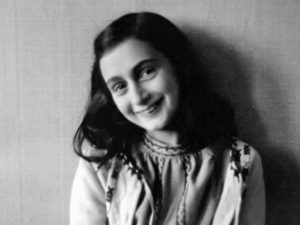 When I was ten or eleven years old, I took The Diary of a Young Girl to my favorite place to read in our tiny duplex apartment in Durham, North Carolina.  It was a hall closet which lost half its space to the hot water heater, but that meant it was always warm.  I'd found a bathmat to put on the floor and brought an extra pillow with me.  Although the light wasn't excellent, it gave me solitude and an environment so neutral that I could journey deeply into my book.
Anne Frank gives little description of Amsterdam, and in any case I couldn't have imagined a city with canals instead of streets, and the vocabulary of its rows of centuries-old, handcrafted houses was still unknown to me.  But, as I burrowed into my closet, I entered every other aspect of her world:  the hideous Mrs. van Dam, the wondrous beauty of Peter, the cruel shrew who was her mother, her kind and virtuous father.  I recognized her parents particularly, bifurcated into the contemptible female and the saintly male, and my heart bled for her.  To be confined that way! To have to tiptoe, not be able to flush the toilet during the day, to live with constant fear of discovery.  Anne felt like prey.  One day, I would understand that, too.
The more I read, the more I couldn't bear to lose Anne.  Her story couldn't end badly, could it?  Anne Frank was too bright, too witty, too good a writer, too wise beyond her years, to die.  She'd escape out a back window with a handsome Gentile boy even nicer than Peter who'd always admired her, wouldn't she?  I was used to fiction, not history, and I probably didn't know about the Holocaust until after I finished the Diary.  When I got to the end and learned that Anne had died at Auschwitz, I was devastated.  None of my peers in the human world meant nearly as much to me as she did.  Anne was like me: she felt things deeply, she adored her father as much as she hated her mother, she was already passionately attached to Peter, and books and writing were her mainstays.
It was the first time I loved a ghost, but not the last.