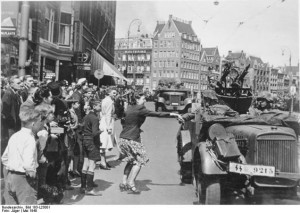 My Addresses in Amsterdam: The Making of a Novel  This presentation traces Mary Dingee Fillmore's own journey with the Holocaust and Resistance and the Netherlands, as a Gentile born in 1948 to Canadian parents with no known Dutch connection. After falling in love with the city of Amsterdam, she discovered that she was living inside the Nazi-designated Jewish Quarter, and that roundups had been conducted literally on her doorstep. That shock led to 13 years of research in Amsterdam's museums, archives, and historic sites, as well at the Holocaust Museum in Washington and the Simon Wiesenthal Center in Los Angeles. Mary will illustrate her discoveries with passages from her historical novel, An Address in Amsterdam, and talk about historical fiction as inspired by research.
Anne Frank's Neighbors: What Did They Do?  Although Anne Frank's Diary of a Young Girl is the most widely read nonfiction book in the world after the Bible, less attention has been paid to the people who lived alongside the Jewish population as the persecution intensified.  Using historic photos, Mary examines the choices the Jewish community's neighbors faced and the decisions they made.  Why did some people ignore the situation, while others felt compelled to resist?  What can we learn from them as we face the humanitarian crises of our own time?  This talk has already been presented to enthusiastic and diverse Vermont audiences in Woodstock, Shelburne, Montpelier, Stowe and Williston, under the auspices of the Vermont Humanities Council.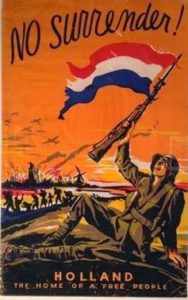 Resistance and Me: An Interactive Workshop  In this workshop, Mary provides the backdrop of Nazi-occupied Amsterdam, and helps the audience examine passages from An Address in Amsterdam which illustrate the dilemmas people faced in that place and time, and how they responded. The implications of the choice to resist will be discussed in more detail. Then individuals will be asked to look at their own lives in terms of moments when they have resisted, perhaps in a personal situation like being bullied or pressured, or in a political context. We will connect their courage to that of Rachel Klein, the teenaged underground worker who is the heroine of An Address in Amsterdam.  Finally, participants will set individual goals which reflect both the participants' past accomplishments and their present concerns.
Mary Dingee Fillmore has been a facilitator and speaker since 1982, and spent the last 13 years researching the Holocaust and Resistance in the Netherlands as an avocation.  Living in Amsterdam on long visits inspired her to publish award-winning poems which confront what happened in one of the most beautiful and liberal cities in the world, as well as the October 2016 An Address in Amsterdam, an historical novel about a young Jewish woman who risks her life in the underground.
To contact Mary about speaking to your group, e-mail her.  She does business as Mary Dingee Fillmore, LLC.  If you are looking for the facilitation services of that business, please look here.
Sample comments from organizers:
"The program was perfect and almost all of the reactions were 5 out of 5 for every part of your talk and the Q and A."
"You are a most informed and articulate, passionate speaker. I have already heard nothing but great comments about your talk, particularly your research. On behalf of our patrons, I thank you so very much for your remarkable presentation, and sharing your passion for your work."
"Mary's introduction to her talk set the mood perfectly. It set people to thinking on how they truly would have handled the conditions which everyday people found themselves in during the Occupation. It showed each of us how, if one lets such things go unremarked and unopposed, we could repeat that horrible history. It allowed us to look into the past and consider how to avoid such situations in the future."
Audiences   Mary's programs have been well received by both large and small audiences, ranging from synagogues and temples to churches, senior centers and young people.  Book groups are also welcome to be in touch about Skype or personal appearances.